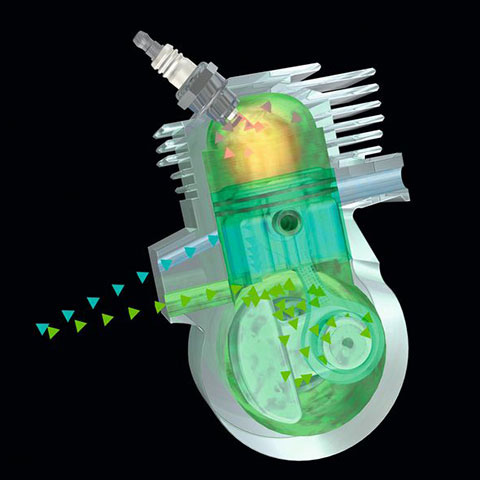 Reduced-emission engine technology
2-stroke engine with stratified charge. A fuel-free layer of air is created between the burned charge in the combustion chamber and the fresh charge in the crankcase, reducing the amount of fuel lost during the charge cycle. This results in more power with a lower weight, up to 20% lower fuel consumption than regular 2-stroke engines and significantly reduced exhaust emissions.
Handle folds for storage and transport
The STIHL MultiEngine comprises of a powerful drive unit and a frame that folds down quickly and easily for transport or storage without the need for any additional tools.
Manual fuel pump (purger)
A small fuel pump delivers fuel to the carburettor at the touch of a button. This reduces the number of starting pulls required following extended breaks in operations.
Multi-functional gear box
The multi-functional gear box can be easily changed from forward to reverse.
Multi-function control handle
This houses all the engine controls. Easy, comfortable thumb-operated control means the operator's hand never leaves the handle.
Convenient to transport
The STIHL MultiSystem folds down quickly and easily, even with an attachment fitted. This makes it convenient to carry, transport and store. For your all-round safety when operating the STIHL MultiSystem we recommend that you wear goggles, sturdy footwear, gloves and ear defenders.